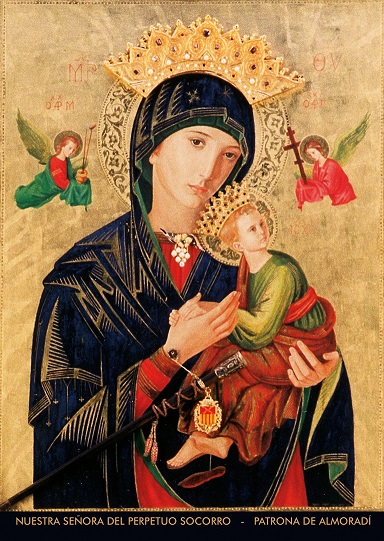 Our Lady of Perpetual Help
Our Lady of Perpetual Help is an ancient oriental icon of unknown origin. In 1919 the Marquises of Rioflorido donated to the church a painting of the Virgin of Perpetual Help. In this same year the Archief of Perpetual Help was founded, the illusion and dedication with which they venerated the Virgin led to the signature, in charge of their holiness Pope Pius XII, of the appointment of the Virgin of the Perpetual Help as patroness of Almoradí In the year 1945.
The liturgical acts in his honor are celebrated in the month of June like employer of Almoradí.
The day before the procession dedicated to the Virgin of the Perpetual Help is realized an offering of Flowers in which all the associations of Almoradí, the neighboring towns and all the inhabitants of Almoradí in General participate.
The faithful accompany their Virgin in a procession that culminates with the placement on the altar of the temple. As a conclusion, all those present sing the hymn "Hail Mother of Perpetual Help."